AddictionSurvivors.org
Addiction Survivors goes mobile.


Get the App for your iPhone or Android-based phone and have access to the Addiction Survivors community whenever and wherever you need it, and its free.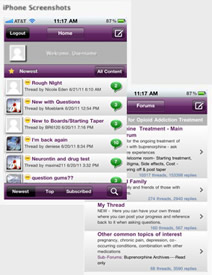 ---
Free Peer Support Referral Cards – while supplies last! We have referral cards to AddictionSurvivors.org available for no charge.
In some parts of the country patients cannot find live support groups that understand the challenges and benefits of medication assisted treatment. The Addiction Survivors patient community is available 24/7.
To order free cards: email us at MakeContact@AddictionSurvivors.org Please include your name, street address and how many cards you would like.
naabt.org
6 ways to find buprenorphine treatment – Not all doctors can prescribe buprenorphine. In fact only about 22,170 of the 800,000 U.S. physicians (2.7%) have the necessary credentials to prescribe it for addiction. In addition those who can prescribe have limits on how many patients they can treat.
To become certified doctors must take an 8-hour course and file a request. This can be done online. See this link for more information You can ask your doctor to become certified.
Click Here for the Six Ways to Find Buprenorphine Treatment
---
Patients and Prescribing Physicians. Patients and prescribing physicians can now order a free "in case of emergency" wallet card that alert healthcare workers that buprenorphine can affect opioid pain medication.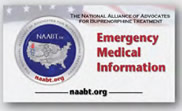 The card also lists a link to this web page: www.naabt.org/emergency with important relevant links useful if opioid pain treatment becomes necessary. Simply email us a mailing address to send the card to at MakeContact@naabt.org
---
Voluntary Disclosure: Some of the funding for this organization is provided by anonymous donors whose lives were touched by evidence-based addiction treatment and were willing to help support our mission. NAABT, Inc. has also asked for and accepted funding from pharmaceutical companies in the form of "Unrestricted Educational Grants." The grants are "unrestricted" so that there are no "strings" attached. NAABT, Inc. has complete control over how the funds are used, there are no restrictions on the content or mission of this site, and donors have no control over the content of the site or NAABT's activities. NAABT, Inc. is solely responsible for all of its activities. Click here to learn more about NAABT.