Buprenorphine has to be specifically tested for and still isn't commonly included on standard drug screen panels. Buprenorphine will NOT cause a positive result on tests for other opiates. The typical urine tests used to detect methadone, oxycodone, heroin, and other opioids check for a different metabolite than that found with buprenorphine and will not show a positive result in buprenorphine (only) maintained patients.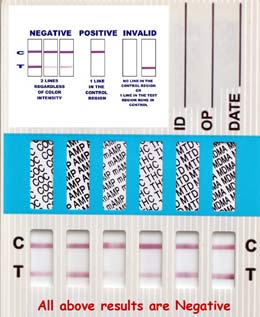 There are in-office tests specifically for buprenorphine that will detect it. These tests are not common (becoming more common since 2011) but can be purchased on the internet.
When reading in-office dip-strip tests be aware that faint lines are not "false positives" see this image of how to read this type of test correctly, and follow the manufacturer instructions: Reading test results
A typical employer multi drug screen might consist of a test for Amphetamine (AMP); Barbiturates (BAR)(Phenobarbital, Secobarbitol, Butalbital); Benzodiazepines(BZO)(Valium, Xanax, Librium, Serax, Rohypnol); Cocaine (COC); Marijuana (THC); Methylenedioxymethamphetamine (MDMA)(Ecstasy); Opiates (OPI); Oxycodone (OXY); Phencyclidine (PCP); Propoxyphene (PPX)(Darvon compounds); and Tricyclic Antidepressants (TCA)
Employers that expand their tests might include some of the following: Hydrocodone (Lortab, Vicodin), Methaqualone (Quaaludes), Methadone, Ethanol (Alcohol)
It is very unusual for an employer to test for buprenorphine, at least for now. It is becoming more common for an employer to test for buprenorphine. (updated 2011)
Buprenorphine can be detected with drug tests for 7-10 days at typical doses, although this time could vary considerably with much higher or much lower doses along with the individual's metabolism rate.
To know if buprenorphine will be detected (providing the employer is indeed testing for buprenorphine) you can purchase your own test kit ahead of time and monitor the detectable levels of bupe to aid in scheduling the employer's drug test.